SAFEGUARDING OUR SOCIETY THROUGH ANTI-MICROBIAL COATING TECHNOLOGY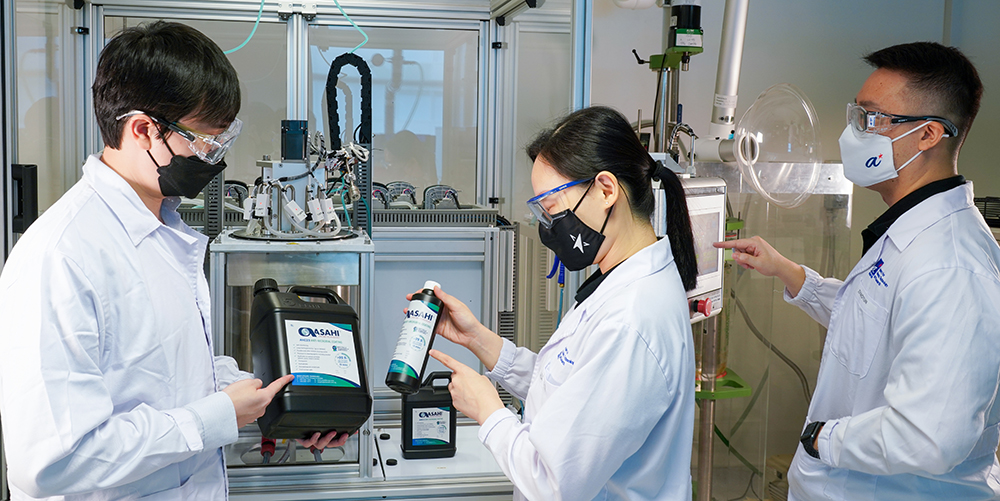 A common mode of infectious disease transmission is through contact with contaminated surfaces. With the COVID-19 pandemic, the need for a cleaner and safer environment has never been more pressing. While disinfectants are commercially and widely available, their disinfecting properties lack durability and users need to clean surfaces actively and regularly to keep them free of microbes. A durable anti-microbial coating on surfaces would help to reduce both disease transmission risks and the need for laborious, frequent surface disinfection.

To address this, researchers from SIMTech developed an anti-microbial coating with hydrophobic properties to facilitate easy cleaning. Together with Asahi Lifecare, a subsidiary under Singapore Asahi & Solder Industries Pte Ltd, this anti-microbial coating technology was taken from laboratory-scale to production scale, where it was validated to be effective against viruses including Enterovirus A71 (EV-A71), a common cause of Hand, Foot and Mouth Disease, as well as Murine Hepatitis Virus (MHV) and Human Coronavirus Virus (OC43), both of which are SARS-Cov-2 surrogates. It has also been tested to be effective against various bacteria strains including Methicillin-resistant Staphylococcus aureus (MRSA). Through Asahi Lifecare, the anti-microbial solution developed was listed and recognized by NEA as a Class A self-disinfecting surface coating product effective against Coronavirus.

Leveraging Asahi Lifecare's deep expertise in chemical production and extensive network, an ecosystem and supply chain for this technology has been established in Singapore to enable the widespread deployment of this surface technology in various industrial sectors, and to work towards a safer environment post COVID-19.

The coating can be applied to a myriad of materials for various purposes and is particularly relevant in the current pandemic situation. To date, Asahi Lifecare has produced and deployed the solution in many areas including public spaces like East Coast Town Councils, elderly homes like Pacific Healthcare Nursing Homes and All Saints Home, carpets for exhibition venues, car grooming services, SCDF ambulances, residential homes, hotels, offices, buildings, furniture and many more. The team is looking to extend the use of this technology to aircraft cabin interior parts and other suitable applications. 
As a Singapore company that is always at the forefront of research and development, this technology helps us to jumpstart our development of anti-microbial coating solutions and diversify our business without changing our core business values. The technology is not only a platform for business, but also serves as a good solution for society, to safeguard people from infectious diseases such as Hand Foot Mouth Disease that has been plaguing our children for a long time, as well as the current COVID-19 situation. We are happy and proud to be able to play a part to contribute to the well-being of society with this coating technology.

Ms Chew KaiHwa, R&D Technical Director of Singapore Asahi Chemical & Solder Industries Pte. Ltd.